2018 CALBO Education Weeks: New Course Highlights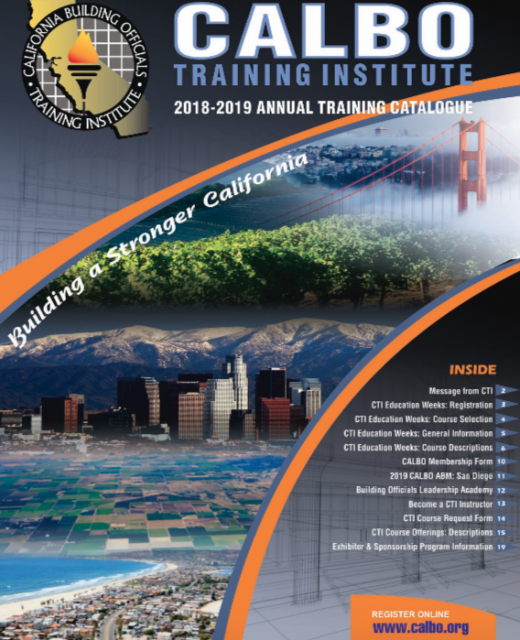 Did you know that there are 18 newly developed courses offered this year at CALBO Education Weeks? The CALBO Training Institute (CTI) Commissioners and CALBO staff have worked hard to develop courses that are not only technically insightful and proficient, but provide real-life experiences that building-safety department staff can encounter on a day-to-day basis. It is CTI's goal to furnish building departments staff with tools to keep active and up-to-date on code changes and amendments, new technology, and advanced thinking on issues related to our industry.
Some of the new courses offered this year are:
- 2016 California Mechanical Code: The Basics of Inspection
- 2016 California Plumbing Code: The Basics of Inspection
- Eat, Drink and Be Thorough: Food Service Tenant Important Plan Review
- Geological and Geotechnical Investigation and Reports: Agency Responsibility for Adequate Review
- The 15 Steps to Dangerous Building Enforcement
- Housing and Community Development and the Local Building Department: Alternative Housing in California
- Wildland-Urban Interface
We are also offering fan favorites this year including:
- 2016 CBC Chapter 11A: Privately Funded Multi-Family Dwelling Accessibility
- 2016 CBC Chapter 11B: Accessibility in Public Buildings, Public Accommodations, Commercial Buildings and Public Housing
- Means of Egrees
- Permit Technician 101 and 102 (Two-Day Course, Both Days Required)
- The Keys to Successful Resource Management
These are just a few of the courses offered this year at CALBO Educations Weeks! Click the links below to see all the courses offered. We look forward to see you this Fall in San Ramon, Ontario and Anaheim.
— Download the Education Weeks Course Matrix here!
— Download the Education Weeks Course Description here!
— Register Online Now!
If you have any questions or concerns, please email the CALBO Office or call 916-457-1103.