Capitol Corner Update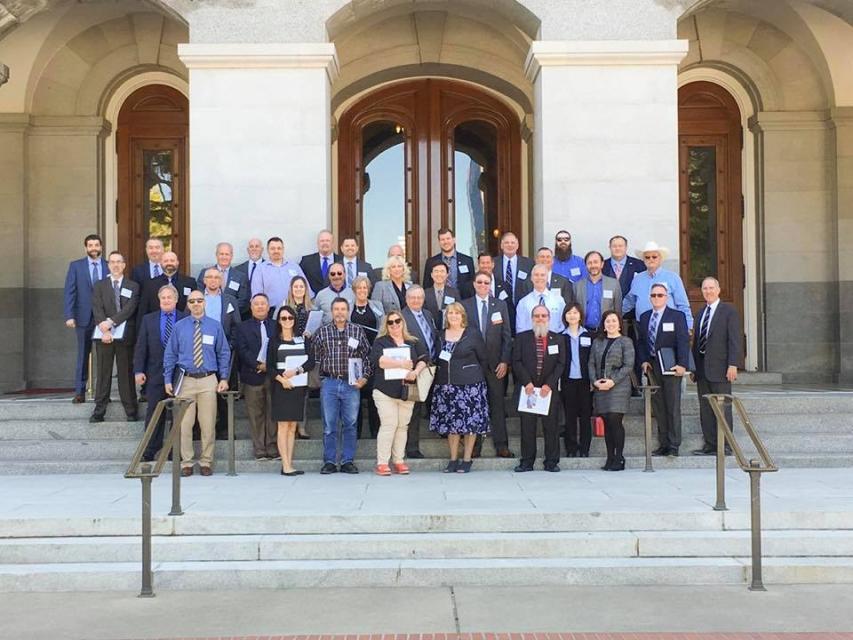 On Wednesday, April 17, dozens of CALBO members convened at the State Capitol to lobby and educate members of the state legislature on behalf of our organization. CALBO members met Legislator's staff not only to discuss CALBO's top legislative priorities, but also highlight who we are and what we do. In their meetings, members discussed the following measures that are currently moving through the capitol.
CALBO is proud to announce that we are actively supporting AB 429 (Nazarian) This measure would require the Alfred E. Alquist Seismic Safety Commission (SSC) to identify funding and develop a bidding process for hiring a third-party contractor to create an inventory of potentially vulnerable buildings in California. After "opposing" a similar measure last year, CALBO worked with the author's office to develop an approach that would not burden local governments. CALBO "supports" this year's bill as it does not identify local funds as a possible funding source for the program, and it only applies to the 29 most seismically vulnerable counties.
Affordable housing is another one of CALBO's top priorities this year. During Leadership and Advocacy day, members were able to discuss local issues on affordable housing, and how building departments play an important role in the process. CALBO's State Legislative Committee recently took an "oppose unless amended" position on SB 13 (Wieckowski) which is a bill that will make substantive amendments to current Accessory Dwelling Unit (ADU) law. This is another bill that CALBO actively advocated against last year, as it would have required Building Officials to delay the enforcement of an imminent risk in an ADU for no less than 10 years. This year's language has removed the portion regarding an "imminent risk," but still asks Building Officials to delay the enforcement of code for no less than 10 years. This bill hopes to bring unpermitted ADUs out of the shadows and allow owners enough time to raise funds to fix ADUs and bring them up to code. CALBO is concerned with the delay of enforcement, and would prefer this be left up to the building Official's discretion on what can be delayed, and for how long.
Leadership and Advocacy Day was a very productive day for both members and staff in the building. This was a great opportunity that created dialogue between constituents and representatives. Legislative offices enjoy hearing about local issues from subject matter experts that represent their district, and CALBO staff encourages all members to participate in Leadership and Advocacy Day! If you would like to learn more about the event, or more about CALBO's presence in the capitol, feel free to reach out to CALBO's Director of Public Affairs – Katie Almand.
To review legislation that CALBO is tracking, visit CALBO's Legislative Watch page. The online bill search provides building officials with a real-time way to follow CALBO's position on critical state legislation during the 2019 session. Simply click on CALBO's LEGISLATIVE WATCH for the latest Bills of Interest and most recent action.