Chapter 11A: Accessible Routes in Common Areas
Webinar Registration Closes Today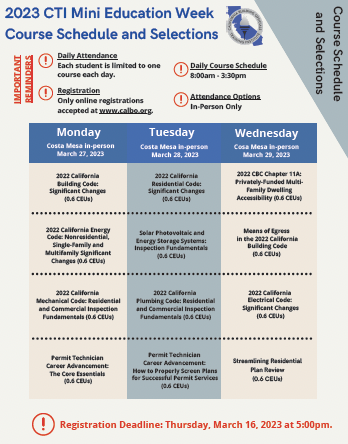 Don't miss this NEW live webinar taking place tomorrow. Online seats are first-come, first-served, so please don't wait!
Gain a Better Understanding of 2019 CBC Chapter 11A, Division II by:
- Studying accessible routes in common areas, such as exterior routes, walks, sidewalks, ramps, landing, and exterior stairways, and hazards.
- Discussing examples and diagrams to ensure current codes and standards are upheld.
- Learning how to spot errors and how to address them.
2019 CBC Chapter 11A: Accessible Routes in Common Areas
Thursday, March 3, 2022
10:00am – 12:00pm
ICC PP Course No. 30702 - 0.2 CEUs
AIA Course No. 3: 2022 - 2 LU | HSWs
Online Registration - Click Here
** Register Now – Registration Closes Today at 5:00pm **
Don't forget to bookmark the CALBO Training Calendar to review the complete list of all webinar topics and dates available.