Improving Plan and Document Screening Skills Webinar
Registration Closing Today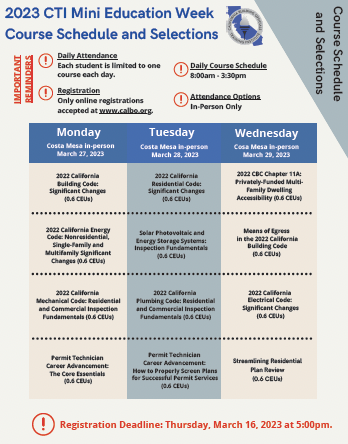 Join one of our leading experts in this lively 2-hour webinar. Questions and active participation from attendees are encouraged. Don't forget seats are first-come, first-served, so don't wait – register now!
Wednesday, April 27, 2022
1:00 – 3:00pm
ICC PP Course No. 28128 - 0.2 CEUs
This webinar focuses on improving plan and document screening skills for permit technicians. Attendees learn basic plan reading skills to ensure plan submittals are complete for plan review and permit issuance. Differences and purposes for various types of plans and documents are reviewed and discussed. Attendees are provided with a checklist that is used in webinar discussions to identify and verify important elements of plan review, including how best to screen and identify missing or deficient information. This webinar is designed for all entry-level positions in permit technicians, building and safety, fire prevention, planning but can serve as a refresher for experienced members and permit technicians who wish to improve their building department role.
Bookmark the CALBO Training Calendar to review the complete list of all webinar topics and dates available. Additional course topics and dates are added monthly.
For any questions, please contact the CALBO Office or by phone at 916-457-1103.