Last Webinar of the Year – Register Now
Registration Closes Wednesday (Tomorrow) at 5pm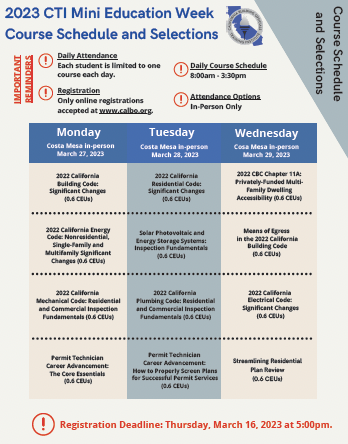 Need a few CEUs? This is the last webinar opportunity of the year - don't miss your chance!
2022 California Electrical Code: Highlighting Significant Changes
Webinar Date: Thursday, December 15, 2022
Time: 10:00am - 12:00pm
ICC PP Course No. 32738 - 0.2 CEUs
AIA Course No. 24: 2022 - 2 LUs I HSW
The 2022 code changes were published on July 1, 2022, so it's time to get a refresher on what has changed from the 2019 electrical standards. This webinar highlights the significant changes in the 2022 California Electrical Code. Attendees learn the basics of the electrical code by understanding how the code is organized, discussing the key concepts, and identifying important provisions and code changes. Photos and visuals from electrical inspections are included in the presentation to ensure understanding and compliance with the upcoming new code requirements. Building officials, architects, engineers and field inspectors are encouraged to attend.
Registration Deadline Tomorrow – Wednesday, December 14 at 5:00pm
Register NOW!
Questions about upcoming training opportunities? Contact the CALBO Office at 916-457-1103 or info@calbo.org.