New Webinar Launching Tomorrow – Register Now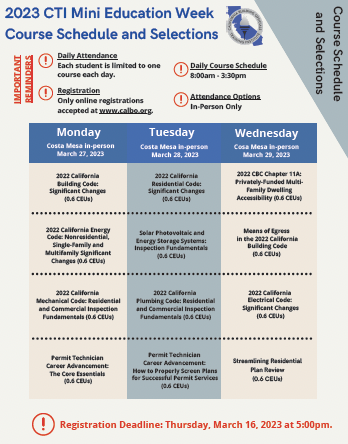 Short on a few CEUs for the year? With only a few webinar opportunities left in 2022 – don't miss your chance!
The Resistance: From Roof Diaphragms to Sill Anchorage in Wood Buildings
Webinar Date TOMORROW: Wednesday, November 16, 2022
Time: 10:00am - 12:00pm
ICC PP Course No. 33862 - 0.2 CEUs
AIA Course No. 26: 2022 - 2 LUs I HSW
Whether it's an earthquake or a wind event, there are many key building components that help prevent collapse. During this webinar, attendees meet the team of building components responsible for resisting these lateral loads and discuss a few common ways these installations might go awry. Attendees learn the differences between wind load and seismic load and their load path through a conventional wood building. Discussion of common detailing along with examples of successful and unsuccessful connections are learned. Plans examiners of all levels, building inspectors, and code enforcement officers are encouraged to attend.
Registration Deadline TODAY at 5:00pm
Register NOW!
Questions about upcoming training opportunities? Contact the CALBO Office at 916-457-1103 or info@calbo.org.