In-Person CALBO Courses this Spring!
Unique Training Opportunity in Orange County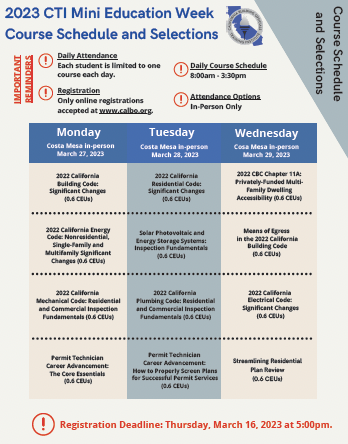 In-person code update courses are back by popular demand, but this time in Costa Mesa for a special spring training event!
Gain a Better Understanding of 2022 Changes:
- How amended definitions and code sections from 2019 to 2022 have changed
- How these changes differ from the past requirements
- How to apply these code changes to the field inspections and plan check duties
Earn CEUs for Certifications:
- Don't wait until the Fall training events for your certification needs
- Smaller class sizes with plenty of student Q&A time
2023 Mini Education Week – 3 Days of In-Person Courses
Monday, March 27 – Wednesday, March 29, 2023
Hilton Orange County/Costa Mesa
3050 Bristol Street | Costa Mesa, CA | 92626
Don't forget to bookmark the CALBO Training Calendar to review the complete list of all webinar topics and dates available.