Capitol Corner Update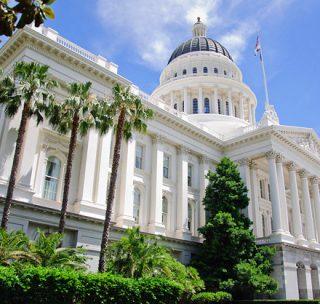 June has been a busy time for CALBO's Legislative Department at the State Capitol. This month is especially important as bills are being heard in policy committees in the second house. After bills make it through their various committees in their house of origin (The Senate for senate bills, and The Assembly for Assembly bills), they must repeat this process in the opposite house. CALBO has taken a strong position on several bills and has actively participated in advocacy efforts with bill authors and policy committees. Here are some of the highlights from the last few weeks.
CALBO is continuing to support AB 429 (Nazarian). This measure would require the Alfred E. Alquist Seismic Safety Commission (SSC) to identify funding and develop a bidding process for hiring a third-party contractor to create an inventory of potentially vulnerable buildings in California. After opposing a similar measure last year, CALBO worked with the author's office to develop an approach that would not burden local governments. CALBO supports this year's bill as it does not identify local funds as a possible funding source for the program, and it only applies to the 29 most seismically vulnerable counties. CALBO hopes that this bill will act as an integral first step in addressing seismic resiliency in California. The next stop for this bill is the Senate Appropriations committee on July 1.
Affordable housing is another one of CALBO's top priorities this year. CALBO has been closely tracking SB 13 (Wieckowski), which aims to amend sections of current Accessory Dwelling Unit (ADU) law. This is another bill that CALBO actively advocated against last year, as it would have required Building Officials to delay the enforcement of an imminent risk in an ADU for no less than 10 years. After meeting with the author's office and discussing CALBO's concerns, that language has been removed. The author's office had also amended to "delay of enforcement" from 10 years to 5 years. Because of these amendments, CALBO has submitted a letter of "Support if Amended." CALBO is still opposed to the section of the bill that would mandate a delay of enforcement – but appreciates the author's efforts to remove the sections of the bill regarding delaying risks. CALBO appreciates the author's office efforts to address our concerns and hopes that we can move to a full support position once the mandate is removed. This bill was passed out of the Assembly Housing and Community Development Committee, and it has been referred to the Assembly local Government Committee and will be heard on July 10.
These are just some of the highlights from the last few weeks. The Legislature will adjourn on July 12 for summer recess and reconvene on August 12 in order to finish this legislative year on September 13. If you have any questions or wish to know more about CALBO's tracked legislation, feel free to contact Katie Almand, CALBO Government Affairs Manager. You can also stay up to date on CALBO's legislative activities on CALBO's legislative page.