Ready for the New 2022 Codes?
Mini Education Week is Coming to Costa Mesa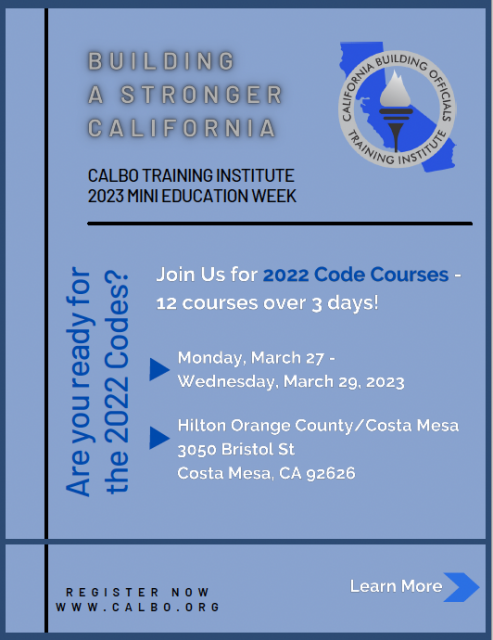 The CALBO Training Institute (CTI) will host the 2023 Mini Education Week before the annual fall training events with an in-person attendance option only. It's a great opportunity to earn CEUs and learn what's new for the 2022 codes.
Monday, March 27 - Wednesday, March 29, 2023
Hilton Orange County/Costa Mesa
3050 Bristol St, Costa Mesa, CA 92626
Want to learn more about the event?
Read below for event details!
Register Now – Click Here
Course Offerings
Attendance
Details
CEUs & LUs
Venue Details
12 in-person courses over
3 days.
Downloadable
course materials.
ICC Preferred Provider
Program (ICC PPP) approval for CEUs.
Special overnight rates available.
All courses updated with 2022 code changes.
Smaller class sizes.
American Institute of Architects (AIA) approval for LUs.
Parking – overnight & day options.
14 subject matter expert instructors.
Designated student Q&A time.
Emailed attendance
certificates.
Close to freeways for easy access.
Course Matrix
Click Here
Event Outline
Click Here
Descriptions & Course Numbers
Click Here

Room Block
Click Here
For questions about this event, please
contact the CALBO Office or by phone at 916.457.1103.