Congratulations to the 2022-2023 CALBO Award Recipients!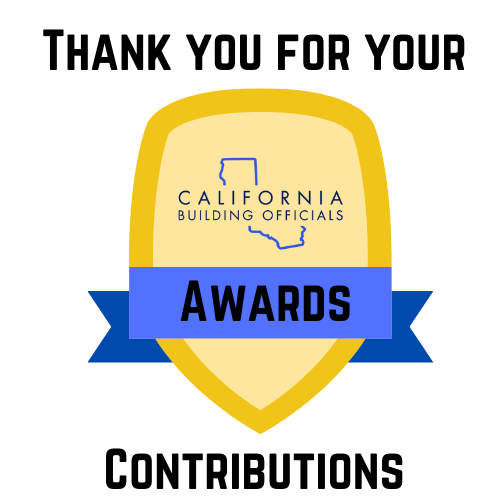 It is with great pride that we announce the 2022-2023 CALBO Awards Recipients. We are grateful for these CALBO Member contributions to the building-safety community.
2022-2023
Building Department of the Year
City of Chico
The City of Chico is the 2022-2023 Building Department of the Year due to its commitment to not only serve its community but the neighboring communities that have been devastated by natural disasters over the last couple of years. Additionally, the department, with a staff of 18 people, has continuously evolved its customer service capabilities through the establishment of a completely new permitting database, allowing the department to average an impressive 300 building inspections per week.
Staying true to the mission of building departments to promote public safety and assist in disaster recovery efforts, the City of Chico immediately reached out to the Town of Paradise and Butte County following the devastating Paradise Camp Fire and Berry Creek Bear Fire. While maintaining a commitment to its community, the department went above and beyond to assist in the recovery efforts of neighboring communities after two devastating natural disasters. In their efforts, the department immediately aided its neighbors by inspecting damaged buildings while still completing the duties necessary to meet the needs of their community. Additionally, the City of Chico launched a web portal allowing project applicants to virtually track their projects from application to final inspection and issuance of a Certificate of Occupancy. This innovative technology provides up-to-the-minute updates on project applications and increases transparency to the public during the permitting process.
As the most populous city of Butte County, the building division serves just over 100,000 constituents efficiently and effectively. The City of Chico provides an example of how a building department can go above and beyond its duties by assisting other communities in times of need, increasing collaboration to adapt to an ever-changing building industry, and having an extensive commitment to one's community. Please join CALBO in celebrating the achievements of the City of Chico. Congratulations, Chico.
Building Official of the Year
Chu Chang, City of San Jose
Mr. Chu Chang is the 2022-2023 Building Official of the Year. Mr. Chang currently serves as the Chief Building Official and Assistant Director of the Planning, Building, and Code Enforcement Department for the City of San Jose.
Mr. Chang joined the City of San Jose in 2011 and, since he began, has brought forward innovative ideas to the building department and the communities it serves. Some of his projects include the establishment of a Rapid Online Service Intake for experienced customers, a pilot project for permit review for solar photovoltaic installations, and the establishment of a universal checklist for Accessory Dwelling Units within the San Jose community. The development of these technologies has continued to evolve and improve the customer experience within the City of San Jose.
As an individual, Mr. Chang is well-known for his good sense of humor around the office, his unwavering support of his staff's career growth through professional development opportunities and mentorship, and his ability to develop strong personal and professional relationships with his team. Outside of his work with the City of San Jose, Mr. Chang is a member of the ICC Major Jurisdiction Committee, which provides resources to local agencies about best practices and information on department administration, code enforcement, and the role of a code official. Additionally, Mr. Chang served as a member of the AIA San Mateo County Chapter as a panelist to help guide course development for architects. These resources are vital to those that protect the public from harm in the built industry and highlight Mr. Chang's continued commitment to our profession.
Mr. Chang exemplifies the best of our profession by improving technological resources and helping guide future leaders within our industry. The CALBO community is fortunate to have Mr. Chang as a member of our community, and we congratulate him on achieving this significant accomplishment. Congratulations, Chu!
Fire Official of the Year
Christine Reed, Central County Fire Department
Battalion Chief Christine Reed is the 2022-2023 CALBO Fire Official of the Year. Chief Reed has had a 32-year career within the California Fire Service and currently serves as the Battalion Chief – Fire Marshal of the Central County Fire Department for the cities of Burlingame, Hillsborough, and Millbrae.
Over her tenure, Chief Reed has served in various committees and board service opportunities, beginning with her service as past president of the San Mateo County Fire Prevention Officers Association in 1999. From 2008 to 2014, she co-chaired the Northern California Fire Prevention Officers (NorCal FPO) Building Standards Committee, which led to her election to the NorCal FPO Board of Directors, where she served as President in 2017. In addition, she was actively involved in the national code development process throughout her board service, attending all national code development hearings on behalf of the California Fire Chiefs Association (CalChiefs).
Chief Reed has demonstrated a long-time commitment to California FPOs and CALBO by promoting this valued building-fire relationship nationally through various committees, outreach, and collaborative opportunities. Currently, Chief Reed serves on the CALBO/CalChiefs Building & Fire Advisory Committee, where she collaborates with leaders of both organizations.
CALBO is an organization that prides itself on working hand-in-hand with local and state fire officials, ensuring public and building safety. Officials like Chief Reed help bridge the gap between the two respective fields creating a beneficial, long-lasting relationship. Congratulations, Christine!
Industry Achievement
Mark Lyum, NBCUniversal
Mr. Mark Lyum is the 2022-2023 CALBO Industry Achievement recipient. He is the Senior Vice President of Global Real Estate at NBCUniversal and began his career at Universal in 1990 as a key team member that developed CityWalk. Mr. Lyum oversaw construction on the Universal Studios lot, including projects such as Super Nintendo World, Harry Potter, Jurassic World, King Kong 3D, Fast & Furious, Mummy The Ride, and collaborated with the development and construction at Universal Theme Parks in California, Florida and Japan.
During such projects, Mr. Lyum proactively coordinated with local code officials to ensure projects were built to the highest code compliance and sustainability level. His participation in the creation of new building and fire code standards for permanent exterior buildings used for outdoor filming was critical to the rebuilding of the studios fire damaged backlot. Before joining Universal, he worked as a project manager for Dillingham Construction, where he was involved with the Doris Stein Eye Research Institute at UCLA.
Mr. Lyum has been an active contributor to the building-safety industry for well over 30 years, being involved in local building code regulation and supporting both CALBO and ICC in policy development and conference support. Mr. Lyum was an active member of CALBO policy committees, including the Green Building Committee. He also provided support to CALBO by providing facility hosting for CALBO's Annual Business Meeting and CALBO Committees and to ICC at the 2015 Annual Conference in Long Beach, California.
The CALBO community is extremely grateful for the contributions that Mr. Lyum has provided to our industry over the last 30 years. Congratulations, Mark!
Hall of Fame
Ralph M. Ochoa
With honor, California Building Officials inducts Mr. Ralph Ochoa into the CALBO Hall of Fame.
Mr. Ralph Ochoa started the Ochoa & Moore Law Firm in 1978 after having served as Chief of Staff to the California Assembly Speaker from 1974-78. Mr. Ochoa was appointed to a number of state boards and commissions from a variety of Governors including: the California Building Standards Commission; the University of California Regents; and the California Lottery Commission. For nearly half a century, Mr. Ochoa built a reputation in Sacramento as someone with knowledge, credibility, access and professionalism.
Mr. Ochoa holds the title of Special Ambassador. In 1978, Mr. Ochoa accompanied the First Lady, Rosalyn Carter, to the inauguration of the President of Costa Rica. He completed assignments for President Jimmy Carter on issues involving tax and economic programs and U.S. foreign policy in Latin America and the Caribbean. President Carter later appointed Mr. Ochoa to the National Advisory Council on Economic Development.
In 1979, Mr. Ochoa was appointed to the Commission of the Californians by Lt. Governor Michael Curb. In 1982, Governor Edmund G. Brown, Jr. appointed him to the California State Building Standards Commission.
Because of his background as a California Building Standards Commissioner, and his reputation as a successful and effective attorney and lobbyist in Sacramento, Mr. Ochoa and his law firm were hired by the International Conference of Building Officials (ICBO) in 1996 to protect the interests of the ICBO in California. Mr. Ochoa and his firm quickly got to work helping raise the profile of ICBO and educating Sacramento on the importance of strong building codes, while helping ICBO transition into the International Code Council (ICC).
In the early 2000s, Mr. Ochoa and his Firm worked tirelessly recruiting and organizing Coalitions large and small throughout California as the California Code Wars became the singular focus for ICC in California. Through his leadership, ICC eventually won the Code Wars in California, and for his efforts, The Ochoa & Moore Law Firm was recognized at the 2005 International Builders Show by the National Association of Home Builders (NAHB) as the winner of its Government Affairs Achievement Award for honoring outstanding contributions to the home building industry.
Mr. Ochoa continued leading the California Coalition for ICC and representing the ICC and its Coalition members before the Building Standards Commission, the State Legislature, as well as numerous state agencies and the Governor's Office until his retirement in 2020.
Ralph could not be with us today due to a recent surgery, but his son Chris will accept the award on his behalf.
For a complete list of CALBO Award Recipients from years past, please visit the Award and Hall of Fame page located on the CALBO website.