For a year of challenge and change, thank you CALBO for taking the lead
Dear Friend of CALBO,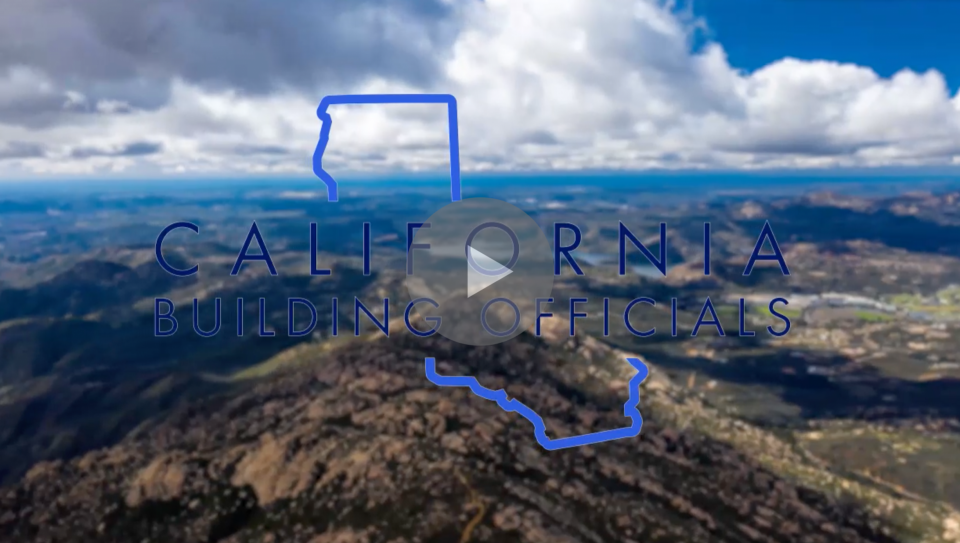 Now I realize, you've heard a lot from me lately. Maybe a little too much, but much like you, this was my effort to lead as your CALBO President through a time of change and adversity. And with that – we did it. You did it. CALBO did it. As we enter into a new year with still some uncertainty at hand, I want to say – thank you.
First and foremost, I hope that you will view the embedded video as a "hats off" to our profession. You, as building department leaders, have been leading the charge throughout this entire pandemic and answering the call to service. The embedded video was produced and shown at our Education Week last week, which had nearly 3,000 viewers in total attendance. Everything I feel along these lines are part of this short 46 second video, so please take the time to view it – perhaps over the holiday break?
When last you heard from me, CALBO was entering into our solo training event for the year – Education Week 2020. And yes, we successfully held a hybrid in-person/virtual event, in Orange County, in the midst of a global pandemic. And we did it safely. What I need to underscore was the need for CALBO to host this event, not just to meet the essential need to train our profession, but to meet our organizational, governance and membership commitments for the 2020-21 year. I would like to share a few details about this event, as we debrief and take a bit of a victory lap.
A total of 2,625 students were trained by CALBO last week in Newport Beach. Of this, 140 were onsite and in-person. This is the largest, single CALBO event in our 68-year history.
CALBO hosted a total of 24 classes – and only had to cancel one due to state travel restrictions imposed on the instructors.
For the first time ever, CALBO hired a professional production team to livestream our courses. Our production team of 8 was onsite and truly separated us from other forms of web administered training events on a professional level.
CALBO launched our first ever commercials over the breaks to acknowledge the efforts of our Gold tier sponsors – special thanks to 4LEAF, Inc.; CSG Consultants; Interwest; Optimum Seismic; and Willdan for your unwavering support, particularly through the pandemic.
The Building Officials Leadership Academy – BOLA – held it's 9th consecutive year of leadership students. Although there were only 7 in this year's class, they were pleased to be there and received quality training. As an alumnus of the program, I'm particularly proud of this advancement.
Most importantly, I would like to acknowledge the incredible instructors who showed up, many on their own time due to the pandemic, to honor their commitment to CALBO.

Mike Allen (Interwest)
Paul Armstrong (TRB + Associates)
Ciara Barnett (Los Angeles County)
Bill Brooks (Brooks Engineering)
Frank Bush (City of Los Angeles, Retired)
Patrick Chew (Amador County)
Jesse De Anda (City of Montebello)
Tony De Santis (City of Los Angeles)
Gil Estrada (City of Indio)
Pete Goodrich (City of Orange)
Chris Hansen (Central Coast Access Specialists, Inc.)
Brandon Ives (City of Los Angeles)
Jeff Janes (CSG Consultants)
Kevin Jorgensen (City of Tracy)
Mostafa Kashe (County of Los Angeles)
Chris Kimball (West Coast Code Consultants, Inc.)
Bob Latz (CSG Consultants)
Sean McNamara (City of Tracy)
Bill Mitchell (City of Los Angeles)
Sara Retmier (City of Hemet)
Gabriel Reza (City of Glendale)
Dominique Samario (City of Menifee)
Ara Sargsyan (City of Santa Monica)
Celine Sarkisloo (City of Glendale)
Faruk Sezar (City of Los Angeles)
Matt Wheeler (CALBO)
Brad Wungluck (City of Manteca)
As I say in the video, "well done CALBO, in accepting this call to service." No truer words have been stated, so as we close out this year of 2020, please accept my humble thanks as we look ahead into a prosperous new year. Thank you.
Best Regards,
Shane Diller, M.P.A.
Assistant Development Services Director
City of Elk Grove