2019 CBC Chapters 11A & 11B Webinar Registration Closing Today
Earn CEUs from the comfort of your home or office!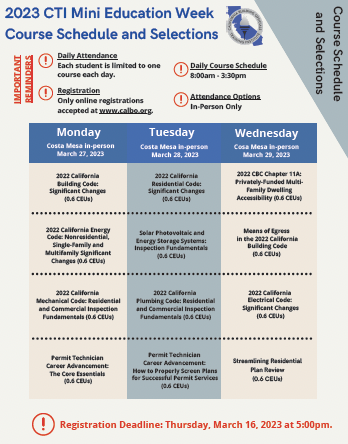 Registration closes TODAY for this upcoming online training opportunity. Use the updated online webinar registration portal for a seamless registration process. Don't wait until the 2020 CALBO Education Week: Newport Beach for your only training opportunity this year – register for a webinar today!
Wednesday, October 21, 2020
1:00pm – 3:00pm
ICC PP Course No. 25963 – 0.2 CEUs
AIA Course No. 36: 2020 – 2 LU | HSWs
Online Registration - Click Here
Review the complete list of upcoming CALBO Webinars by visiting the CALBO Webinar Registration page.
For any questions, please contact the CALBO Office or by phone at 916-457-1103.