Energy Webinar Registration Closing Today
Don't miss this course!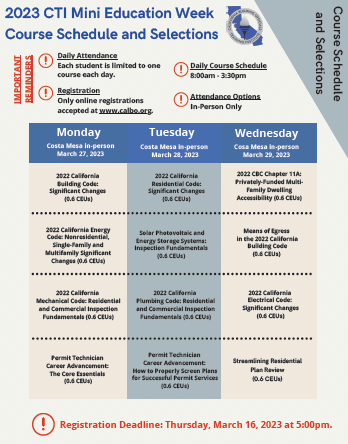 Registration closes TODAY for this upcoming webinar – brought to you by one of our seasoned experts, don't miss out on this great course.
Wednesday, January 27, 2021
1:00pm – 3:00pm
ICC PP Course No. 25167 - 0.2 CEUs
AIA Course No. 24: 2020 - 2 LU | HSWs

Attendees receive an overview of the 2019 Energy Code insulation requirements for newly constructed buildings, as well as additions and alterations to existing buildings. Topics include mandatory and prescriptive requirements, air leakage, U-factor efficiency requirements, quality insulation installation, forms and Energy Code resources. Building officials, architects, engineers, energy consultants, plans examiners, field inspectors and counter technicians are encouraged to attend.
Online Registration - Click Here
Bookmark the CALBO Training Calendar for quick access to review the complete list of all webinar topics and dates available. Additional course topics and dates are added monthly.
For any questions, please contact the CALBO Office or by phone at 916-457-1103.