Highlighting 2022 Accessibility Changes
Webinar Registration Closes Today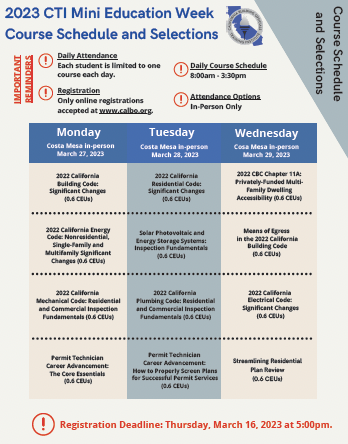 Don't miss this NEW live webinar taking place tomorrow. Online seats are first-come, first-served, so please don't wait!
Gain a Better Understanding of 2022 Access Changes:
- Upcoming Division of the State Architect's Chapter 11B code changes
- Upcoming Housing and Community Development's Chapter 11A code changes
- Upcoming California Residential Code Section 327 changes
- Amended definitions and code sections from these 2019 to 2022 changes
- How these changes differ from the current requirements
Highlighting Accessibility Changes in the 2022 California Building and Residential Codes
Webinar Date: Tomorrow - Thursday, May 19, 2022
Time: 10:00am - 12:00pm
ICC PP Course No. 31759 - 0.2 CEUs
AIA Course No. 8: 2022 - 2 LU | HSWs
** Register Now – Registration Closes TODAY at 5:00pm **
Don't forget to bookmark the CALBO Training Calendar to review the complete list of all webinar topics and dates available.