Important Q&As for ADUs in California
Back by Popular Demand!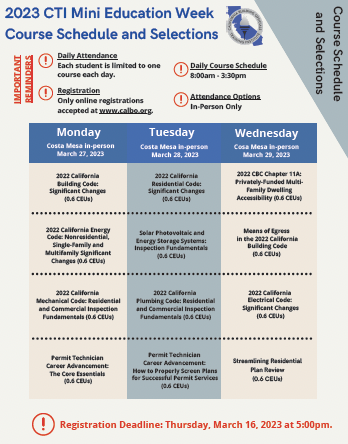 Join California Department of Housing and Community Development (HCD) for this ADU overview webinar! Online seats are first-come, first-served, so please don't wait.
Learn something new or get clarification on these topics:
- Essential ADU definitions, types, examples, and photos.
- Recent changes to ADU laws.
- Frequently asked questions taken from HCD's ADU Handbook.
- ADU ordinance adoption process.
- Examples of ADU funding laws and resources.
Important Q&As for Accessory Dwelling Units in California
TOMORROW - Wednesday, March 9, 2022
1:00 – 3:00pm
ICC PP Course No. 29355 - 0.2 CEUs
AIA Course No. 29: 2021 - 2 LUs
Online Registration - Click Here
** Register Now – Registration Closes TODAY at 5:00pm **
Don't forget to bookmark the CALBO Training Calendar to review the complete list of all webinar topics and dates available.